Human Resources Development
Disaster Risk Reduction begins with Capacity Building
(1)Organizing Conference, Workshops & Trainings on Disaster Risk Reduction
ADRC organizes and conducts various conferences, workshops and trainings for enhancing the human resources capabity of pursuing effective disaster risk management in member countries.
Disaster Risk Mangement Training for Local Government Officials
JICA Seminar on Comprehensive Disaster Risk Reduction
Workshop on Flood Risk Management
Workshop on Earthquake Disaster Management
Urban Search and Rescue Training in Singapore
Workshop on Total Disaster Risk Management (TDRM)*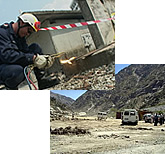 *ADRC, in cooperaion with UN-OCHA (Kobe), developed the Total Disaster Risk Mangement (TDRM) as an effective and strategic approach for disaster risk reduction, and disseminates the concept to member countries and other countries in Asia. The concept of TDRM centers around two crucila principles. They are; "involvement of all stakeholders" and "implementation of measures during all phases of disaster," i.e. prevention/mitigation, preparedness, response and rehabilitation/reconstruction. The promotion of TDRM approach to minimize potential impact of natural dissasters is in line with the implementation efforts for achieving sustainable development.
(2)Program for Inviting Visiting Researchers from Member Countries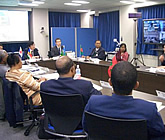 ADRC has been receiving Visiting Researchers (VRs) from member countries since 1999. As of March 2019, 111 officials from 26 member countries have undertaken this program. During their stay, VRs learn about Japan's advanced DRR knowledge, technologies, and international cooperation in this field. VRs are expected not only to contribute to DRR capacity-building efforts in their own home countries, but also to further promote cooperation between their countries and ADRC.